Life Christian University is a theologically accredited, educationally accountable institution of higher learning. Our educational programs are designed to help students grow in their faith as they prepare to follow the Lord in the work of the ministry.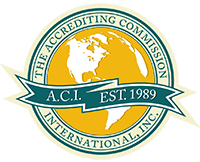 For this reason, LCU has chosen to be accredited through Accrediting Commission International. ACI is an internationally known, non-profit, church educational organization. They handle the accreditation of Christian theological seminaries, universities, and colleges throughout the world, providing supervision for almost 300 schools in 8 countries and in 38 states of the USA.
Accreditation in the United States is a voluntary submission to standards of high academic quality, accurate record keeping, and ethical policies and practices. Accreditation is essentially a statement of approval. The best accrediting commissions provide on-site visits to ensure their high standards are met.
Why Non-Governmental Accreditation?
LCU has chosen not to seek governmental school accreditation because we believe we should not allow secular institutions to dictate the qualifications for instructors or the programs for a Spirit-filled ministerial degree. As an independent accrediting agency, ACI helps the religious world obtain accreditation that is not government affiliated. The form of ministry accreditation provided by ACI is recognized by most churches, ministry institutions, and ministry organizations. All ACI member institutions around the world accept credits from other member schools, if the credits apply to their programs.
Meeting & Exceeding State Requirements
Life Christian University has fulfilled rigorous educational requirements in our determination to acquire and maintain a quality educational program. LCU is a state-authorized school, recognized by the Florida Department of Education's Commission for Independent Education, having fully met and exceeded the requirements of state law. Additionally, in each of the many states where LCU has campuses, we have met and exceeded the requirements of their State Departments of Education as well.
LCU offers academic programs that are specifically designed to equip students who feel the call of God on their lives and who wish to build a ministerial career or to further their Christian education. Our academic programs are not for persons intending to build secular careers. The articulation and acceptance of credits or degrees by other institutions, including employers, must be determined by the respective institutions.