Our Campus in Brooksville, FL
As an educator, you are thrilled when your students succeed in life. I felt such joy as I read a report last week from an alumnus with a Doctor of Ministry degree. She is the Director for our campus in Brooksville, a small community of about 8,000 located about 40 minutes north of Tampa. This campus, over the last 10 years, has trained 330 students who faithfully serve in their local churches as ushers, greeters, children and nursery workers, as well as in visitation and prayer.
In addition, many graduates have pursued full-time ministry. I was delighted to hear how our graduates' LCU degrees prepared them and opened doors of opportunity for them. Our campus in this small town has equipped seven senior pastors as well as six who serve as associate, children's or youth pastors. Four graduates serve as missionaries, three are involved as lay counselors, two teach in Christian schools, two serve non-profit ministries, and four are involved in prison and jail ministry.
As a county seat, Brooksville has several correctional institutions in its local area. The Brooksville campus has sponsored LCU campuses within the prisons. They see dramatic changes: prisoners are born-again, and then receive a solid, biblical foundation as they study the life-transforming Word of God. A total of 37 prisoners have earned a degree from LCU. Often they are the first in their family to graduate from college: it is beyond anything they had ever dreamed possible! The joy on their faces make you want to cry. I have enclosed pictures of the graduating class at the Hernando Women's Prison so you can see for yourself.
Prisoners Graduate from Life Christian University
Together, We Are Making a Difference!
"I was in prison and you came to Me" (Matthew 25:36).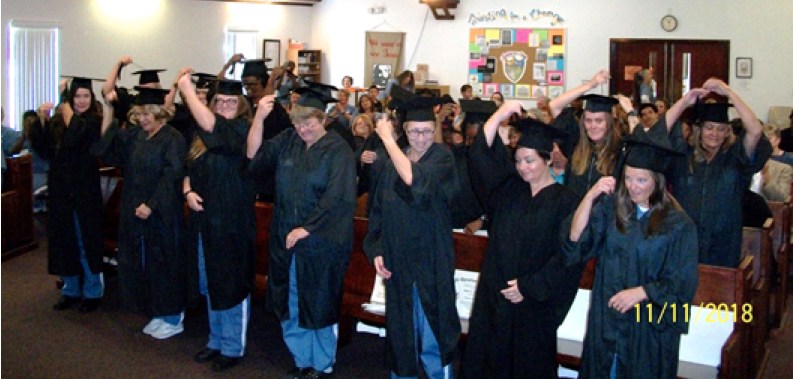 The 2018 Graduating Class at the Hernando Correctional Institute
Our LCU campus, inside the prison walls, has transformed the lives of these ladies forever.
A Time To Celebrate!
Attending college…and graduating… is beyond anything these ladies had ever dreamed possible!
In the past 10 years, our Brooksville Campus has awarded the following degrees:
82 AA
65 BA
16 MA
4 DMin
for a total of 167 degrees awarded.
Almost all our students are active in helping in their local churches. In addition, others have pursued the full-time ministries, for which their degree prepared them and opened the door of opportunity.
As there are several prisons in the area, our Brooksville Campus has also sponsored campuses in both men's and women's prisons, and awarded these degrees:
15 AA in Hernando Correctional Institute
13 BA in Sumter County Correctional Institute
6 BA in Hernando Correctional Institute
3 MA in Hernando Correctional Institute
for a total of 37 prisoners who now have a college degree.
These prisoners are now a living testimony of how Jesus Christ can change a life. Many of our graduates are now leading Bible studies for their fellow inmates within the prison walls.
Click here to fill out an application